HB193 HIV Criminalization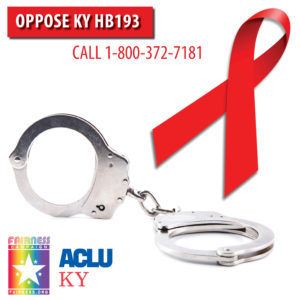 HIV Criminalization Bill up for Vote in Full House
Are you in HIV/AIDS services or advocacy? Register for our FREE HIV Policy Summit in Lexington Friday, March 9!
A bill that will further stigmatize and criminalize people living with HIV/AIDS in Kentucky is on the move. The House Judiciary Committee was divided as the Fairness Campaign and Planned Parenthood Advocates of Indiana and Kentucky testified against HIV Criminalization House Bill 193. Needing 11 votes to pass committee, HB193 barely squeaked by with 12.
Now, it's posted for passage on Tuesday, February 20 in the full House, but it can still be stopped or amended!
Don't hesitate, call 1-800-372-7181 now to OPPOSE HB193! Click here for a Fact Sheet on HB193 and check out our Legislative Action Center to stay up to date on all Fairness bills in the Kentucky General Assembly!